I really like Slayers for Dwarfs. Love the background, a dishonoured Dwarf, seeking the only honourable outlet left by embarking on a quest to slay as many dangerous and lethal opponents before they die. That and the models I think are pretty good, going all the way from the past to the present. I have mentioned before that I am looking forward to painting my Slayer unit. Despite the fact that the only game I have used them in had them wiped out before they did anything. Guess I just need more practice!
At Bugman's the painting contest is Slayer for this month. I got to pick it as I won
last month with my Gob-lobber
. I recently procured an old Warhammer Quest Troll Slayer off ebay for a decent price (it was listed as a normal slayer), and since I have been obsessed with the Warhammer Quest game on iPhone, it was a natural choice!
So I named him after my character in that game, Argrul Lost-throne. That name alone speaks volumes of what he might have done or suffered to then take the Slayer pledge. Who know's, but I am looking forward to fielding him as a Dragon Slayer in my next game.
Let me know what you think!
I wanted to try more inticate tattoos this time, and basically copied the ones from the cover of the Gotrek and Felix Omnibus 2.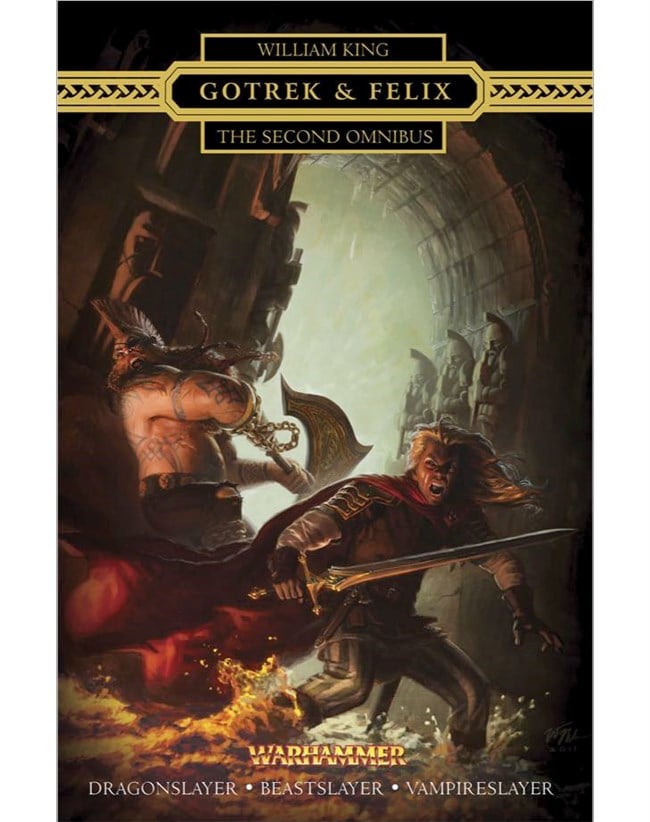 I also spent more effort this time on his skin, going for maybe 5 or 6 layers, don't recall. I quite like the result though. Anyways, that's enough for now, back to painting GW Dwarfs!
Cheers!